37 acres in a prime Burnaby location will undergo an epic transformation into The City of Lougheed. Inspired by world class cities, it will be complete with 20+ stunning high-rise towers, diverse neighbourhoods, shopping and restaurants, striking architecture and the most connected SkyTrain hub in Metro Vancouver. Imagine all the energy of downtown, in the region's most central location.
RSVP Me for VIP Previews April 28th
Canada's Largest New Master Plan
A 37-ACRE MASTER PLAN IN BURNABY
This incredible new community will have homes, shops, restaurants, parks, public plazas and a new transit exchange, all within an area the size of 16 city blocks.
OVER 20 HIGH-RISE TOWERS
Residents will belong to an expertly planned metropolis that will attract like-minded people from around the globe.
MULTIPLE NEW NEIGHBOURHOODS
The City of Lougheed will be designed for diverse experiences, with some neighbourhoods that feel like downtown, and others designed for a quieter lifestyle.
MORE THAN 10,000 CITIZENS
The City of Lougheed recognizes a global shift toward vibrant, connected urban centres, with 2.5 billion people worldwide moving to cities by 2050.
1.5 MILLION SQ. FT. OF NEW RETAIL
With everything from top fashion and restaurants to specialty shops and fresh groceries, The City of Lougheed will bring the top-calibre amenities of a world-renowned city.
TWO SKYTRAIN LINES RIGHT ON-SITE
This is a central and connected access point for the region, connecting the Millennium Line, the new Evergreen Line Extension, direct-route buses and more.
ABUNDANT GREEN SPACE & LUSH LANDSCAPING
Drawing inspiration from the region's surrounding greenery, The City of Lougheed will have an organic, park-like feel, from its walkable neighbourhoods to its landscaped green roofs.
A City Of Neighbourhoods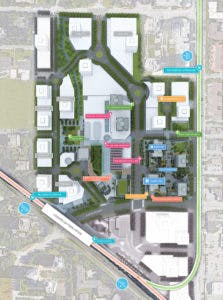 The world's most intriguing cities are more than mass metropolises. They comprise distinct boroughs and districts that are greater than the sum of their parts.
In The City of Lougheed, each unique neighbourhood will offer unmistakable character and a purposeful mix of amenities, conveniences and public spaces. These neighbourhoods will be the backdrop for pedestrian-friendly high streets, landscaped boulevards spilling out into public plazas, active retail storefronts and lively events all year long.
As The City of Lougheed evolves, the investment value of its homes is expected to increase. This could gives early purchasers into The City of Lougheed the opportunity to build equity over the long term as the vision of a world-class urban centre comes to life.
Building Long-Term Value Into Your Investment
SHAPE is the developer and asset manager leading all components of our projects from residential to retail and office. For this reason, we're invested in the cohesiveness, livability and longevity of the master planned communities that anchor our homes. This validates our commitment to building complete and authentic cities that will serve the region indefinitely.
RSVP Me for VIP Previews April 28th